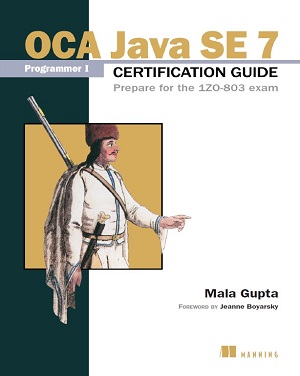 出版时间:2013.4
官网链接:Manning
下载地址(eMule):PDF EPUB
下载地址(Baidu):百度网盘
内容简介:
To earn the OCA Java SE 7 Programmer Certification, you need to know your Java inside and out, and to pass the exam it's good to understand the test itself. This book cracks open the questions, exercises, and expectations you'll face on the OCA exam so you'll be ready and confident on test day.
OCA Java SE 7 Programmer I Certification Guide is a comprehensive guide to the 1Z0-803 exam. You'll explore important Java topics as you systematically learn what is required. Each chapter starts with a list of exam objectives, followed by sample questions and exercises designed to reinforce key concepts. It provides multiple ways to digest important techniques and concepts, including analogies, diagrams, flowcharts, and lots of well-commented code.
Written for developers with a working knowledge of Java who want to earn the OCA Java SE 7 Programmer I Certification.
Purchase of the print book includes a free eBook in PDF, Kindle, and ePub formats from Manning Publications.