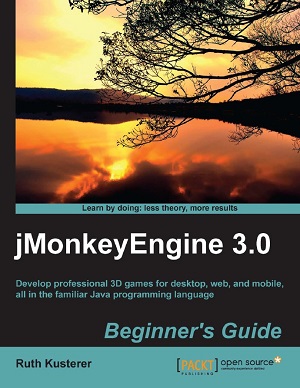 出版时间:2013.6
官网链接:Packt
下载地址:百度网盘 腾讯网盘 360网盘(d3d5)
内容简介:
jMonkeyEngine 3.0 is a powerful set of free Java libraries that allows you to unlock your imagination, create 3D games and stunning graphics. Using jMonkeyEngine's library of time-tested methods, this book will allow you to unlock its potential and make the creation of beautiful interactive 3D environments a breeze.
"jMonkeyEngine 3.0 Beginner's Guide" teaches aspiring game developers how to build modern 3D games with Java. This primer on 3D programming is packed with best practices, tips and tricks and loads of example code. Progressing from elementary concepts to advanced effects, budding game developers will have their first game up and running by the end of this book.
From basic concepts and project creation to building a complex 3D Game, you will learn to layout 3D scenes, make them interactive and add various multi-media effects.
You will find answers to common questions including best practices and approaches, how game characters can act and interact, how to simulate solid walls and physical forces, how to take it online to play over a network and much more.
From Zero to Hero, start your journey to make your game idea a reality.