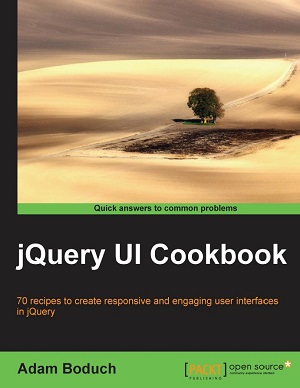 出版时间:2013.7
官网链接:Packt
下载地址:百度网盘
内容简介:
jQuery UI is the quintessential framework for creating professional user interfaces. While jQuery core lays the foundation for interaction with the DOM and handling events, jQuery UI fills in the user interaction gap. This book will give you a huge productivity boost out of the box with jQuery UI, and help you understand the framework, inside and out.
"jQuery UI Cookbook" provides you with practical recipes featuring in-depth coverage of every widget in the framework, including how to address limitations that impact your everyday development activities with these widgets. You'll get a better idea of the big picture – how the framework is composed, how the widgets relate to one another, and how to build on those patterns.
Be it a minor tweak on the visual design of a progress bar or a fundamental change in a widget to meet your needs, "jQuery UI Cookbook" covers scenarios both big and small. You can show reminders as tooltips, apply a variety of effects to the menu widget, and start interactions between the dialog widget and API data using deferred objects. These and many more interesting tasks are covered in this book, which can be done with smooth learning and great understanding. You will see how button widgets can fill the width of their containing element, making the layout more consistent. Tabs can be sorted and moved between widgets. You will learn how to do all these things within the context of the big picture, by finding out why the components work the way they do, making you well-versed in jQuery UI.
What you will learn from this book:
Benefits and tricks in each jQuery UI widget
Build your own widget using the widget factory and the theme framwork
Built-in event-handling utilities for inter-widget communication
Extend widgets to provide the missing behavior your application needs
Extend and improve the design of each widget using the theme framework, overriding defaults such as borders and backgrounds
Details about different widget configurations not covered in the jQuery UI documentation
Discover the role of each widget in an application and how they collectively contribute to a better user experience
Explore coding conventions that work best when writing jQuery UI code
Learn about unique perspectives on approaches to widget development – maintainability matters