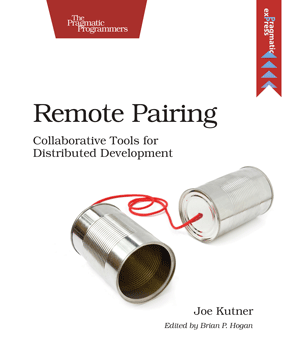 出版时间:2013.12
官网链接:Pragmatic
下载地址:百度网盘
内容简介:
Two heads are better than one, but only if they're working on the same problem. When pairing remotely, this requires a specialized environment that you'll learn how to create. We'll use the same open-source tools as the pros to improve collaboration and increase productivity. You'll learn techniques, patterns, and best practices you can apply to projects of all kinds. These tools are so effective that many co-located programmers use them despite sitting side-by-side—you don't have to work outside of an office for this book to improve your programming techniques.
We'll start by creating a secure collaborative editing environment capable of handling the low-bandwidth networks at some coffee shops. Then we'll share your screen using free open source tools and protocols. We'll deploy all of this to a server in the cloud so you can access your development environment from anywhere. Then we'll use one of the most advanced integrated development environments to collaborate, sketch on a virtual whiteboard, and resolve conflicts.
Finally, we'll talk with programmers at Pivotal Labs, Big Nerd Ranch, and other top-notch distributed development firms to learn how they handle the challenges of remote pairing on a daily basis. With their help and advice, you can be productive from any location on the planet.