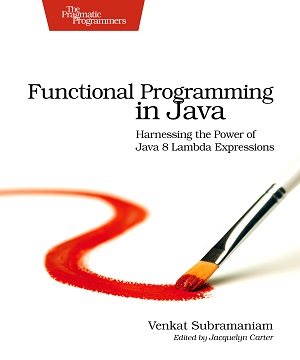 出版时间:2014.2
官网链接:Pragmatic
下载地址:百度网盘(PDF+EPUB+MOBI)
内容简介:
Lambda expressions are lightweight, highly concise anonymous methods backed by functional interfaces in Java 8. You can use them to leap forward into a whole new world of programming in Java. With functional programming capabilities, which have been around for decades in other languages, you can now write elegant, concise, less error-prone code using standard Java. This book will guide you though the paradigm change, offer the essential details about the new features, and show you how to transition from your old way of coding to an improved style.
In this book you'll see popular design patterns, such as decorator, builder, and strategy, come to life to solve common design problems, but with little ceremony and effort. With these new capabilities in hand, Functional Programming in Java will help you pick up techniques to implement designs that were beyond easy reach in earlier versions of Java. You'll see how you can reap the benefits of tail call optimization, memoization, and effortless parallelization techniques.
Java 8 will change the way you write applications. If you're eager to take advantage of the new features in the language, this is the book for you.
What You Need:
Java 8 with support for lambda expressions and the JDK is required to make use of the concepts and the examples in this book.