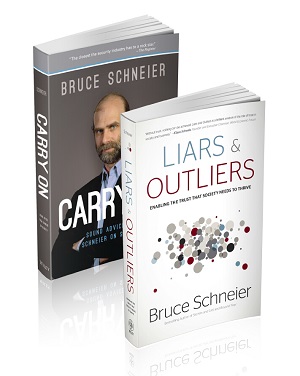 出版时间:2014.1
官网链接:Wiley
下载地址:百度网盘
内容简介:
This set includes two books from security expert Bruce Schneier, Liars and Outliers: Enabling the Trust that Society Needs to Thrive and Carry On: Sounds Advice from Schneier on Security. In Liars and Outliers, Schneier covers the topic of trust in society and how issues of trust are critical to solving problems as diverse as corporate responsibility, global warming, and the political system. Insightful and entertaining, the weaves together ideas from across the social and biological sciences to explain how society induces trust and how trust facilitates and stabilizes society.
Carry On features more than 140 articles by Schneier, including more than twenty unpublished articles, covering such security issues as crime and terrorism, human security, privacy and surveillance, the psychology of security, security and technology, travel and security, and more.
A two-book set from a renowned author, technologist, and security expert
Covers such current topics as the Internet as surveillance state, Chinese cyberattackes, privacy and social networking, aviation security, and more
Ideal for IT professionals, security and networking engineers, hackers, consultants, and technology vendors
Together, these two books offer deep and practical insight into a wide range of security topics for professionals in technology fields, as well as anyone interested in the larger philosophical issues of security.