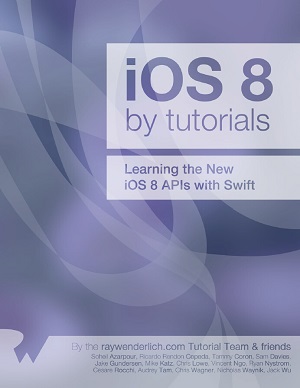 出版时间:2014.12
官网链接:RayWenderlich
下载地址:百度网盘(PDF+CODE)
内容简介:
Learn the New iOS 8 APIs!
At WWDC, Tim Cook declared iOS 8 the most significant change for iOS developers since the introduction of the original iPhone OS SDK.
Not only does iOS 8 introduce an entirely new programming language—Swift—but it also introduces a huge set of APIs to learn and master!
This is where iOS 8 by Tutorials comes to the rescue! In this book, you will learn the new iOS 8 APIs the quick and easy way – by following fun and easy-to-read tutorials.
iOS 8 by Tutorials covers the following topics:
Adaptive Layout: Learn how to make your user interfaces adapt to different devices and screen sizes.
Extensions: Learn how to share your app's functionality with the OS itself!
CloudKit: Learn how to store your app's data on the cloud.
Scene Kit: Learn how to add 3D visualizations into your own apps!
Photos: Learn about the new framework that makes working with Photos much easier.
Live Rendering: Write custom controls that you can configure in Interface Buider!
Handoff: Learn how to continue a task on a different device with the new Handoff API.
WebKit: Learn about Apple's new and improved framework for working with the web.
Visual Effects: Learn how to blur your app's UI and use vibrant text.
Xcode 6: Learn about the new features in Xcode 6 and iTunes Connect.
One thing you can count on – after reading this book you'll be prepared to take advantage of all the new improvements iOS 8 has to offer!
The iOS Tutorial Team takes pride in making sure each tutorial we write holds to the highest standards of quality. We want our tutorials to be well written, easy to follow, and fun. And we don't want to just skim the surface of a subject – we want to really dig into it, so you can truly understand how it works and apply the knowledge directly in your own apps.