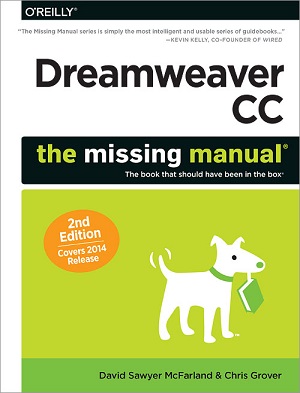 出版时间:2014.11
官网链接:O'Reilly
下载地址:百度网盘(PDF+EPUB)
内容简介:
Dreamweaver CC is a powerful tool for designing all kinds of websites, from those with simple, static pages to interactive, media-driven sites for desktop, laptop, and mobile devices. But the program still doesn't include a printed guide to its amazing capabilities. That's where this Missing Manual comes in. With hands-on tutorials and coverage of every feature, you'll learn to build, deploy, and manage sites whether you're an experienced designer or just getting started.
The important stuff you need to know:
Dive into page design. Quickly learn the basics of working with text, images, links, and tables.
Edit pages in Live view. Dynamically add elements to live pages and immediately see the results.
Design once, and for all. Build fluid-grid sites that adapt themselves to desktop, tablet, and mobile devices.
Troubleshoot your HTML. Use the new Element Quick View to reveal the hierarchy of page elements.
Style with ease. Tap Dreamweaver's enhanced CSS Designer to copy and paste styles.
Enhance Dreamweaver. Get new program features with add-ons that integrate directly with Dreamweaver.
Bring your pages to life. Use jQuery UI to add interactive page elements like tabbed content panels.
Create universal pages. Avoid browser incompatibility with workarounds.