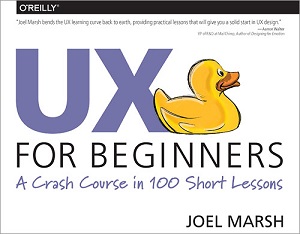 出版时间:2015.12
官网链接:O'Reilly
下载地址:百度网盘(PDF+EPUB)
内容简介:
Whether you want to design apps, websites, or just have an intelligent conversation about design, these quick-and-dirty lessons are for you. Based on the popular UX Crash Course from Joel Marsh's blog—read over a million times—this book follows the real-life UX process from start-to-finish, so you can apply the skills as you learn. It is also perfect for managers, programmers, salespeople, and marketers who want to know more about designing digital products and services.
Lessons include:
Fundamentals of UX design, no experience necessary
Researching the weird and wonderful things users do
The process and science of making anything user-friendly
Using size, color, and layout to help and influence users
Planning and making wireframes
Making your designs feel engaging and persuasive
Measuring how your design works in the real world
What does a UX designer do all day?