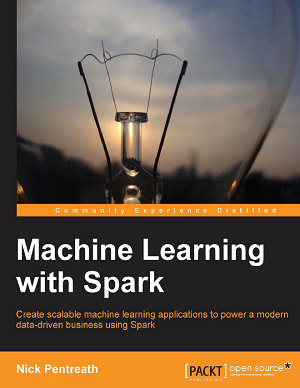 出版时间:2015.2
官网链接:Packt
下载地址:百度网盘(PDF+EPUB)
内容简介:
About This Book
A practical tutorial with real-world use cases allowing you to develop your own machine learning systems with Spark
Combine various techniques and models into an intelligent machine learning system
Use Spark's powerful tools to load, analyze, clean, and transform your data
Who This Book Is For
If you are a Scala, Java, or Python developer with an interest in machine learning and data analysis and are eager to learn how to apply common machine learning techniques at scale using the Spark framework, this is the book for you. While it may be useful to have a basic understanding of Spark, no previous experience is required.
What You Will Learn
Create your first Spark program in Scala, Java, and Python
Set up and configure a development environment for Spark on your own computer, as well as on Amazon EC2
Access public machine learning datasets and use Spark to load, process, clean, and transform data
Use Spark's machine learning library to implement programs utilizing well-known machine learning models including collaborative filtering, classification, regression, clustering, and dimensionality reduction
Write Spark functions to evaluate the performance of your machine learning models
Deal with large-scale text data, including feature extraction and using text data as input to your machine learning models
Explore online learning methods and use Spark Streaming for online learning and model evaluation
In Detail
Apache Spark is a framework for distributed computing that is designed from the ground up to be optimized for low latency tasks and in-memory data storage. It is one of the few frameworks for parallel computing that combines speed, scalability, in-memory processing, and fault tolerance with ease of programming and a flexible, expressive, and powerful API design.
This book guides you through the basics of Spark's API used to load and process data and prepare the data to use as input to the various machine learning models. There are detailed examples and real-world use cases for you to explore common machine learning models including recommender systems, classification, regression, clustering, and dimensionality reduction. You will cover advanced topics such as working with large-scale text data, and methods for online machine learning and model evaluation using Spark Streaming.