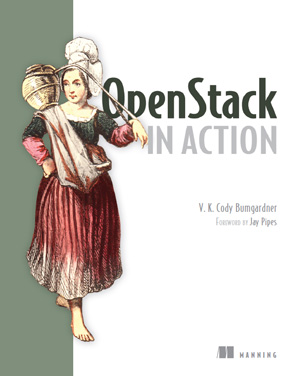 出版时间:2016.3
官网链接:Manning
下载地址:百度网盘(PDF)
内容简介:
About the technology
OpenStack is an open source framework that lets you create a private or public cloud platform on your own physical servers. You build custom infrastructure, platform, and software services without the expense and vendor lock-in associated with proprietary cloud platforms like Amazon Web Services and Microsoft Azure. With an OpenStack private cloud, you can get increased security, more control, improved reliability, and lower costs.
About the book
OpenStack in Action offers real-world use cases and step-by-step instructions on how to develop your own cloud platform. This book guides you through the design of both the physical hardware cluster and the infrastructure services you'll need. You'll learn how to select and set up virtual and physical servers, how to implement software-defined networking, and technical details of designing, deploying, and operating an OpenStack cloud in your enterprise. You'll also discover how to best tailor your OpenStack deployment for your environment. Finally, you'll learn how your cloud can offer user-facing software and infrastructure services.
What's inside
Develop and deploy an enterprise private cloud
Private cloud technologies from an IT perspective
Organizational impact of self-service cloud computing
About the reader
No prior knowledge of OpenStack or cloud development is assumed.
About the author
Cody Bumgardner is the Chief Technology Architect at a large university where he is responsible for the architecture, deployment, and long-term strategy of OpenStack private clouds and other cloud computing initiatives.