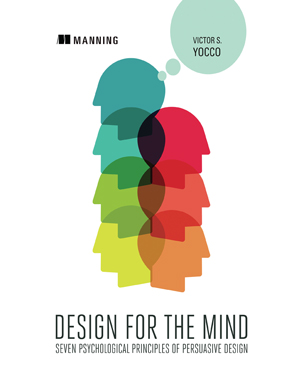 出版时间:2016.6
官网链接:Manning
下载地址:百度网盘(PDF)
内容简介:
About the technology
Designers and design team members need to think about more than just aesthetics. How do you handle short attention spans. How does your design encourage users to engage, browse, or buy? Fortunately, there are psychological principles that you can use in your design to anticipate and benefit from how humans think, behave, and react.
About the book
Design for the Mind: Seven Psychological Principles of Persuasive Design teaches you to recognize how websites and applications can benefit from an awareness of our innate, natural responses as humans, and to apply the same principles to your own designs. This approachable book introduces the psychological principles, deconstructs each into easily digestible concepts, and then shows how you can apply them. The idea is to deepen your understanding of why people react in the ways they do. After reading the book, you'll be ready to make your work more psychologically friendly, engaging, and persuasive.
What's inside
Making design persuasive
Encouraging visitors to take action
Creating enduring messages
Meeting the needs of both engaged and disengaged visitors
Becoming a strategic influencer
Applying theory, with case studies and real-world examples
About the reader
This book is for web and UX designers and developers as well as anyone involved in customer-facing digital products.
About the author
Victor Yocco, PhD, is a research director at a Philadelphia-based digital design firm. He received his PhD from The Ohio State University, where his research focused on psychology and communication in informal learning settings. Victor regularly writes and speaks on topics related to the application of psychology to design and addressing the culture of alcohol use in design and technology. He can be found at www.victoryocco.com or @victoryocco on Twitter.