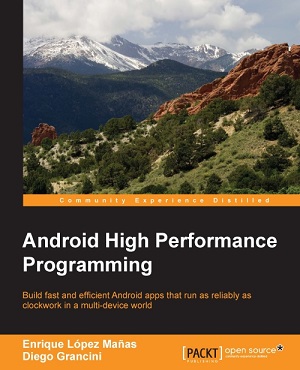 出版时间:2016.8
官网链接:Packt
下载地址:百度网盘(PDF+EPUB+MOBI)
内容简介:
Book Description
Performant applications are one of the key drivers of success in the mobile world. Users may abandon an app if it runs slowly. Learning how to build applications that balance speed and performance with functionality and UX can be a challenge; however, it's now more important than ever to get that balance right.
Android High Performance will start you thinking about how to wring the most from any hardware your app is installed on, so you can increase your reach and engagement. The book begins by providing an introduction to state–of-the-art Android techniques and the importance of performance in an Android application. Then, we will explain the Android SDK tools regularly used to debug and profile Android applications. We will also learn about some advanced topics such as building layouts, multithreading, networking, and security. Battery life is one of the biggest bottlenecks in applications; and this book will show typical examples of code that exhausts battery life, how to prevent this, and how to measure battery consumption from an application in every kind of situation to ensure your apps don't drain more than they should.
This book explains techniques for building optimized and efficient systems that do not drain the battery, cause memory leaks, or slow down with time.
What You Will Learn
Create Android applications that squeeze the most from the limited resource capacity of devices
Swap code that isn't performing
Efficient memory management by identifying problems such as leaks
Reap the benefits of multithreaded and asynchronous programming
Maximize the security and encryption mechanisms natively provided by Android
Perform efficient network operations and techniques to retrieve data from servers
Master the NDK to write native code that can perform faster operations
Authors
Enrique López Mañas
Enrique López Mañas is a Google Developer Expert and independent IT consultant. He has been working with mobile technologies and learning from them since 2007. He is an avid contributor to the open source community and a FLOSS (Free Libre Open Source Software) kind of guy, being among the top 10 open source Java contributors in Germany. He is a part of the Google LaunchPad accelerator, where he participates in Google global initiatives to influence hundreds of the best startups from all around the globe. He is also a big data and machine learning aficionado.
In his free time he rides his bike, take pictures, and travels until exhaustion. He also writes literature and enjoys all kinds of arts. He likes to write about himself in third person. You can follow him on Twitter (@eenriquelopez) to stay updated on his latest movements.
Diego Grancini
Diego Grancini has a degree in telecommunications and IT engineering from Perugia University. He has developed his skills on Android development for more than six years leading and contributed to several projects, teaching and sharing his skills during his career.
He joined Engineering Ingegneria Informatica S.P.A. after his degree, defining his own knowledge about Java and Android development working as the lead Android developer for years. Then he joined J.P. Morgan & Chase, strengthening his skills about security and performance in software development and Android platform in particular.