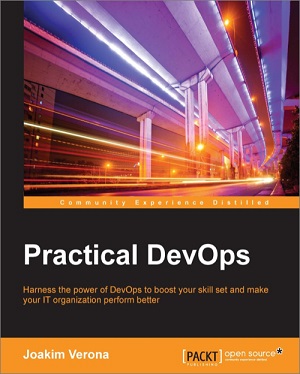 出版时间:2016.2
官网链接:Packt
下载地址:百度网盘(PDF+EPUB)
内容简介:
Harness the power of DevOps to boost your skill set and make your IT organization perform better
About This Book
Get to know the background of DevOps so you understand the collaboration between different aspects of an IT organization and a software developer
Improve your organization's performance to ensure smooth production of software and services
Deploy top-quality software and ensure software maintenance and release management with this practical guide
Who This Book Is For
This book is aimed at developers and system administrators who wish to take on larger responsibilities and understand how the infrastructure that builds today's enterprises works. This book is also great for operations personnel who would like to better support developers. You do not need to have any previous knowledge of DevOps.
What You Will Learn
Appreciate the merits of DevOps and continuous delivery and see how DevOps supports the agile process
Understand how all the systems fit together to form a larger whole
Set up and familiarize yourself with all the tools you need to be efficient with DevOps
Design an application that is suitable for continuous deployment systems with Devops in mind
Store and manage your code effectively using different options such as Git, Gerrit, and Gitlab
Configure a job to build a sample CRUD application
Test the code using automated regression testing with Jenkins Selenium
Deploy your code using tools such as Puppet, Ansible, Palletops, Chef, and Vagrant
Monitor the health of your code with Nagios, Munin, and Graphite
Explore the workings of Trac?a tool used for issue tracking
In Detail
DevOps is a practical field that focuses on delivering business value as efficiently as possible. DevOps encompasses all the flows from code through testing environments to production environments. It stresses the cooperation between different roles, and how they can work together more closely, as the roots of the word imply?Development and Operations.
After a quick refresher to DevOps and continuous delivery, we quickly move on to looking at how DevOps affects architecture. You'll create a sample enterprise Java application that you'll continue to work with through the remaining chapters. Following this, we explore various code storage and build server options. You will then learn how to perform code testing with a few tools and deploy your test successfully. Next, you will learn how to monitor code for any anomalies and make sure it's running properly. Finally, you will discover how to handle logs and keep track of the issues that affect processes
Style and approach
This book is primarily a technical guide to DevOps with practical examples suitable for people who like to learn by implementing concrete working code. It starts out with background information and gradually delves deeper into technical subjects.