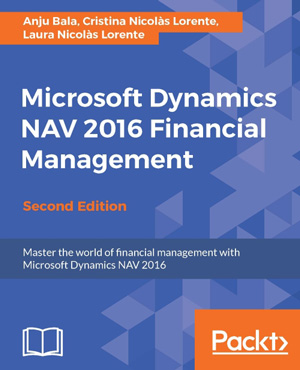 出版时间:2017.1
官网链接:Packt
下载地址:百度网盘(PDF+EPUB+MOBI)
内容简介:
Book Description
Microsoft Dynamics NAV is a global Enterprise Resource Planning (ERP) solution that provides small and mid-size businesses with greater control over their finances and a way to simplify their supply chain, manufacturing, and operations.
Microsoft Dynamics NAV Financial Management explains all you need to know in order to successfully handle your daily financial management tasks. This book walks you through all the improvements in the latest release and shows you how to apply them in your workplace.
You will learn about functionalities including sales and purchase processes, payments, bank account management, reporting taxes, budgets, cash flow, fixed assets, cost accounting, inventory valuation, workflows, sending and receiving electronic documents, and business intelligence. This book comprehensively covers all the financial management features inside the latest version of Dynamics NAV and follows a logical schema. By the time you're finished this book you will have learned about budgets, cash flow management, currencies, intercompany postings, and accounting implications in areas such as jobs, services, warehousing, and manufacturing.
What You Will Learn
Handle complete business processes for purchases and sales in Dynamics NAV.
Use the banking features and the reconciliation process to gain greater insights into a company's financial status.
Report data in a meaningful way that provides the company with insightful analysis.
Set up dimensions and link them with master tables and journals.
Work with multi-currency and intercompany postings. Receive and send documents electronically.
Manage complete Fixed Asset by Setup, transactions, budgets, and Fixed Asset Reporting.