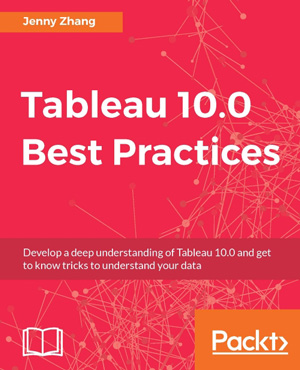 出版时间:2016.12
官网链接:Packt
下载地址:百度网盘(PDF+EPUB+MOBI)
内容简介:

Book Description
Tableau has emerged as an industry leader in the field of data discovery and business analytic software solutions. While there is a lot of information on how to use the tool, most Tableau users are faced with the challenge on how it can be effectively used to derive meaningful business insights from the uncharted territory of data.
This book will give you useful tips from Tableau masters learned from years of experience working with Tableau. You'll start by getting your data into Tableau, move on to generating progressively complex visualizations, and end with finishing touches and packaging your work for distribution.
Inside you will learn the exact steps required to solve complex real-life problems. Whether it is data blending or complex calculations, you can solve your problem with ease and confidence; no more searching for Help doc or waiting for support. This book will help you make the most of Tableau and become a Tableau expert.
What You Will Learn
Connect to variety of data (cloud and local) and blend it in an efficient way for fast analytics
Advanced calculations such as LOD calculations and Table calculations
See advanced use cases of Parameter, Sorting, and Filters
Get practical tips on how to format dashboards following the Zen of dashboard design
See examples of a variety of visualizations such as cohort analysis, Jitters chart, and multiple small charts
See the new features in Tableau 10—cross data source filter, worksheet as tooltip, cluster, and custom territory