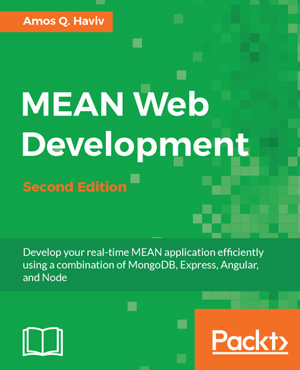 出版时间:2016.11
官网链接:Packt
下载地址:百度网盘(PDF+EPUB+MOBI)
内容简介:
Book Description
The MEAN stack is a collection of the most popular modern tools for web development that helps you build fast, robust, and maintainable web applications.
Starting with the MEAN core frameworks, this pragmatic guide will explain the key concepts of each framework, how to set them up properly, and how to use popular modules to connect it all together. By following the real-world examples shown in this tutorial, you will scaffold your MEAN application architecture, add an authentication layer, and develop an MVC structure to support your project development. You will learn the best practices of maintaining clear and simple code and will see how to avoid common pitfalls.
Finally, you will walk through the different tools and frameworks that will help expedite your daily development cycles.
Watch how your application development grows by learning from the only guide that is solely orientated towards building a full, end-to-end, real-time application using the MEAN stack!
What You Will Learn
Use MongoDB to store and retrieve your application's data
Connect your Express application to MongoDB and use the Mongoose module
Manage your users' authentication and offer them diverse login options using Passport
Structure and use an Angular 2 application in your MEAN project
Use Socket.io to create real-time communication between your client and server
Test your application's Express and Angular 2 entities
Authors
Amos Q. Haviv
Amos Q. Haviv is a software developer, technical consultant, and the creator of MEAN.IO and MEAN.JS. He has been a full-stack developer for almost a decade and worked for multiple start-ups and enterprise companies. For the past 6 years, Amos has been working with full-stack JavaScript solutions, including Node.js and MongoDB, as well as frontend frameworks such as Angular and React. In 2013, he created the first popular boilerplate for MEAN applications, MEAN.IO, and currently continues the development of MEAN solutions at http://meanjs.org. He also gives lectures on advanced web technologies at meetups and conferences, and he guides development teams at various companies.