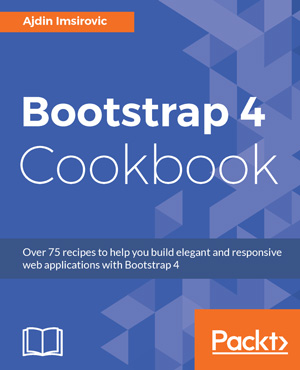 出版时间:2017.6
官网链接:Packt
下载地址:百度网盘(PDF)
内容简介:
Book Description
Bootstrap, one of the most popular front-end frameworks, is perfectly built to design elegant, powerful, and responsive interfaces for professional-level web pages. It supports responsive design by dynamically adjusting your web page layout.
Bootstrap 4 is a major update with many impressive changes that greatly enhance the end results produced by Bootstrap. This cookbook is a collection of great recipes that show you how to use all the latest features of Bootstrap to build compelling UIs.
This book is using the most up-to-date version of Bootstrap 4 in all its chapters. First off, you will be shown how you can leverage the latest core features of Bootstrap 4 to create stunning web pages and responsive media. You will gradually move on to extending Bootstrap 4 with the help of plugins to build highly customized and powerful UIs.
By the end of this book, you will know how to leverage, extend, and integrate bootstrap to achieve optimal results for your web projects.
What You Will Learn
Craft beautiful UIs the right way
Use jQuery and JavaScript to extend Bootstrap layouts
Become more efficient by speeding up your workflow to achieve amazing results in the shortest time possible
Setup your environment for future changes of the framework.
Stay DRY by quickly prototyping Bootstrap-based websites with the help of Github's own serverless blogging platform, Jekyll
Integrate Bootstrap with the most popular JS frameworks, Angular and React
Combine Bootstrap with the .NET platform