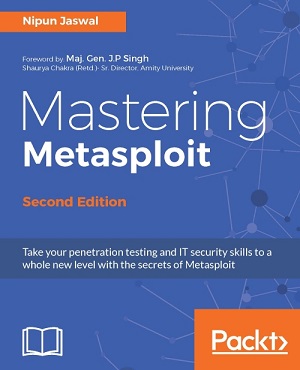 出版时间:2016.9
官网链接:Packt
下载地址:百度网盘(PDF+EPUB+AZW3)
内容简介:
Book Description
Metasploit is a popular penetration testing framework that has one of the largest exploit databases around. This book will show you exactly how to prepare yourself against the attacks you will face every day by simulating real-world possibilities.
We start by reminding you about the basic functionalities of Metasploit and its use in the most traditional ways. You'll get to know about the basics of programming Metasploit modules as a refresher, and then dive into carrying out exploitation as well building and porting exploits of various kinds in Metasploit.
In the next section, you'll develop the ability to perform testing on various services such as SCADA, databases, IoT, mobile, tablets, and many more services. After this training, we jump into real-world sophisticated scenarios where performing penetration tests are a challenge. With real-life case studies, we take you on a journey through client-side attacks using Metasploit and various scripts built on the Metasploit framework.
By the end of the book, you will be trained specifically on time-saving techniques using Metasploit.
What You Will Learn
Develop advanced and sophisticated auxiliary modules
Port exploits from PERL, Python, and many more programming languages
Test services such as databases, SCADA, and many more
Attack the client side with highly advanced techniques
Test mobile and tablet devices with Metasploit
Perform social engineering with Metasploit
Simulate attacks on web servers and systems with Armitage GUI
Script attacks in Armitage using CORTANA scripting