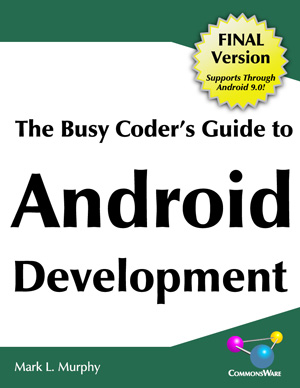 出版时间:2019.2
官网链接:CommonsWare
下载地址:百度网盘(PDF+EPUB+MOBI+APK)
内容简介:
The Book's Structure
The book is divided into core chapters plus the trails.
The core chapters — representing ~800 pages — are set up as a typical programming guide, covering the basics of getting an Android app up and running. The book includes material on setting up your development tools, constructing a user interface, loading data from a local database or the Internet, handling the differences between phones and tablets, and much more.
The core chapters also include an integrated set of 17 tutorials, offering you step-by-step guides for creating an Android application from scratch. Hence, whether you "learn by reading" or "learn by doing", you have the material in the core chapters to accomplish your goal.
The rest of the book comprises the trails. These are linked sets of chapters covering advanced topics, organized by theme. However, while the core chapters are designed to be read in sequence, the trails are designed to be read on an as-needed basis, when you want to dive into those specific topics.
Details
Final Version
4,298 pages
Supports Android 9.0 and Android Studio 3.1