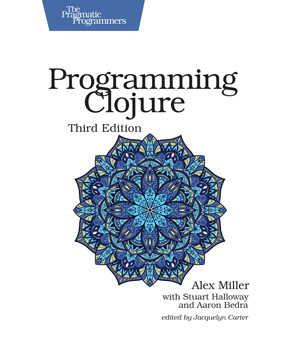 出版时间:2018.2
官网链接:Pragmatic
下载地址:百度网盘(trueEPUB)
内容简介:
About this title
Clojure joins the flexibility and agility of Lisp with the reach, stability, and performance of Java. Combine Clojure's tools for maximum effectiveness as you work with immutable data, functional programming, and safe concurrency to write programs that solve real-world problems.
Start by reading and understanding Clojure syntax and see how Clojure is evaluated. From there, find out about the sequence abstraction, which combines immutable collections with functional programming to create truly reusable data transformation code. Clojure is a functional language; learn how to write programs in a functional style, and when and how to use recursion to your advantage. Discover Clojure's unique approach to state and identity, techniques for polymorphism and open systems using multimethods and protocols, and how to leverage Clojure's metaprogramming capabilities via macros. Finally, put all the pieces together in a real program.
New to this edition is coverage of Clojure's spec library, one of the most interesting new features of Clojure for describing both data and functions. You can use Clojure spec to validate data, destructure data, explain invalid data, and generate large numbers of tests to verify the correctness of your code.
With this book, you'll learn how to think in Clojure, and how to take advantage of its combined strengths to build powerful programs quickly.
What You Need
Java 6 or higher
Clojure 1.9