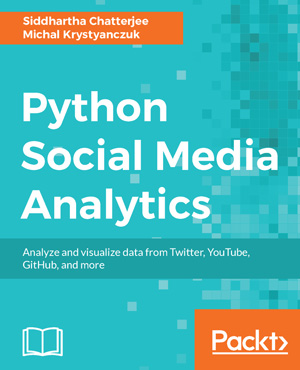 出版时间:2017.7
官网链接:Packt
下载地址:百度网盘(PDF+EPUB+AZW3)
内容简介:
Book Description
Social Media platforms such as Facebook, Twitter, Forums, Pinterest, and YouTube have become part of everyday life in a big way. However, these complex and noisy data streams pose a potent challenge to everyone when it comes to harnessing them properly and benefiting from them. This book will introduce you to the concept of social media analytics, and how you can leverage its capabilities to empower your business.
Right from acquiring data from various social networking sources such as Twitter, Facebook, YouTube, Pinterest, and social forums, you will see how to clean data and make it ready for analytical operations using various Python APIs. This book explains how to structure the clean data obtained and store in MongoDB using PyMongo. You will also perform web scraping and visualize data using Scrappy and Beautifulsoup.
Finally, you will be introduced to different techniques to perform analytics at scale for your social data on the cloud, using Python and Spark. By the end of this book, you will be able to utilize the power of Python to gain valuable insights from social media data and use them to enhance your business processes.
What You Will Learn
Understand the basics of social media mining
Use PyMongo to clean, store, and access data in MongoDB
Understand user reactions and emotion detection on Facebook
Perform Twitter sentiment analysis and entity recognition using Python
Analyze video and campaign performance on YouTube
Mine popular trends on GitHub and predict the next big technology
Extract conversational topics on public internet forums
Analyze user interests on Pinterest
Perform large-scale social media analytics on the cloud