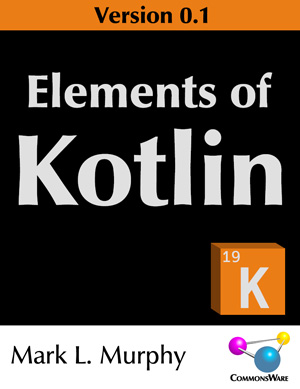 出版时间:2018.12
官网链接:CommonsWare
下载地址:百度网盘(PDF+EPUB+MOBI)
内容简介:
The programming language for the first generation of Android app development was Java.
The programming language that will dominate the second generation of Android app development will be Kotlin.
Kotlin is a powerful language, designed to be concise yet expressive, both for application code and for libraries. However, some of that comes at a cost, as Kotlin has a lot more keywords and specialty features than does Java. A lot of that complexity is only needed by intermediate to advanced Kotlin developers, though.
This introductory book to Kotlin focuses on helping existing programmers get up to speed on reading and writing Kotlin code. Particular emphasis is placed on the sorts of syntax and language capabilities that most Kotlin developers will need, with light coverage of the advanced capabilities that allow library developers to create easy-to-use APIs.
Right now, this book is in a very early "beta" state, but it covers most of basics of Kotlin programming. It should reach Version 1.0 in the first half of 2019, with more complete coverage.
What's New
Details