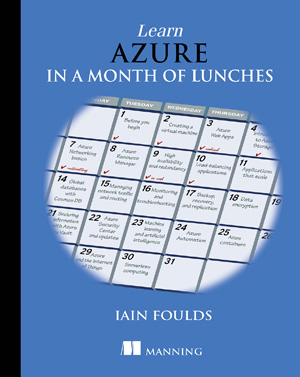 出版时间:2018.8
官网链接:Manning
下载地址:百度网盘(truePDF)
提取码 :j4j1
内容简介:
Microsoft recommends this book as a high-quality resource for learning Microsoft Azure.
You don't need to learn everything about Azure to do some incredible stuff. Learn Azure in a Month of Lunches gets you started by breaking down the most important concepts and tasks into 21 bite-sized lessons, complete with examples, exercises, and labs. You'll be productive immediately, and when you finish you'll be well on the way to Azure mastery!
about the technology
With hundreds of features and prebuilt services, the Microsoft Azure cloud platform is vast and powerful. To master it, you need a trustworthy guide. In this hands-on book, Microsoft engineer and Azure trainer Iain Foulds focuses on the core skills you need to create and maintain cloud-based applications.
about the book
Learn Azure in a Month of Lunches teaches you the foundational techniques for writing, deploying, and running cloud-based applications in Azure. In it, you'll master the basics, including setting up cloud-based virtual machines, deploying web servers, and using hosted data stores. As you work through the book's 21 carefully planned lessons, you'll explore big-picture concerns like security, scaling, and automation.You'll even dabble in Azure's prebuilt services for machine containers, and serverless computing!
what's inside
Getting started, from your first login
Writing and deploying web servers
Securing your applications and data
Automating your environment
Azure services for machine learning, serverless computing, and more
about the reader
Readers should be able to write and deploy simple web or client/server applications.
about the author
Iain Foulds is an engineer and senior content developer with Microsoft.