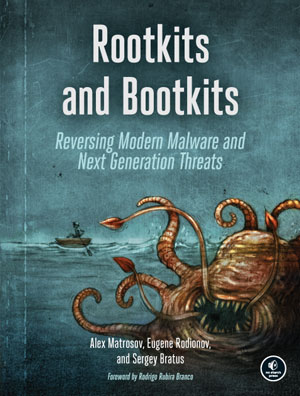 出版时间:2019.5
官网链接:No Starch Press
下载地址:百度网盘(truePDF)
提取码 :jbmm
内容简介:
Rootkits and Bootkits will teach you how to understand and counter sophisticated, advanced threats buried deep in a machine's boot process or UEFI firmware.
With the aid of numerous case studies and professional research from three of the world's leading security experts, you'll trace malware development over time from rootkits like TDL3 to present-day UEFI implants and examine how they infect a system, persist through reboot, and evade security software. As you inspect and dissect real malware, you'll learn:
How Windows boots—including 32-bit, 64-bit, and UEFI mode—and where to find vulnerabilities
The details of boot process security mechanisms like Secure Boot, including an overview of Virtual Secure Mode (VSM) and Device Guard
Reverse engineering and forensic techniques for analyzing real malware, including bootkits like Rovnix/Carberp, Gapz, TDL4, and the infamous rootkits TDL3 and Festi
How to perform static and dynamic analysis using emulation and tools like Bochs and IDA Pro
How to better understand the delivery stage of threats against BIOS and UEFI firmware in order to create detection capabilities
How to use virtualization tools like VMware Workstation to reverse engineer bootkits and the Intel Chipsec tool to dig into forensic analysis
Cybercrime syndicates and malicious actors will continue to write ever more persistent and covert attacks, but the game is not lost. Explore the cutting edge of malware analysis with Rootkits and Bootkits.
Covers boot processes for Windows 32-bit and 64-bit operating systems.
Author Bio
Alex Matrosov is a leading offensive security researcher at NVIDIA. He has more than two decades of experience with reverse engineering, advanced malware analysis, firmware security, and exploitation techniques. Beforeoining NVIDIA, Alex served as Principal Security Researcher at Intel Security Center of Excellence (SeCoE), and spent more than six years in the Intel Advanced Threat Research team, and was Senior Security Researcher at ESET. Alex has authored and co-authored numerous research papers, and is a frequent speaker at security conferences, including REcon, Zeronigths, Black Hat, DEFCON, and others. Also, he is awarded by Hex-Rays for open-source plugin HexRaysCodeXplorer which is developed and supported since 2013 by REhint's team.
Eugene Rodionov, PhD, is a Security Researcher at Intel working in the domain of BIOS security for Client Platforms. Before that, Rodionov ran internal research projects and performed in-depth analysis of complex threats at ESET. His fields of interest include firmware security, kernel-mode programming, anti-rootkit technologies, and reverse engineering. Rodionov has spoken at security conferences such as Black Hat, REcon, ZeroNights, and CARO, and has co-authored numerous research papers.
Sergey Bratus is a Research Associate Professor in the Computer Science Department at Dartmouth College. He has previously worked at BBN Technologies on Natural Language Processing research. Bratus is interested in all aspects of Unix security, in particular in Linux kernel security, and detection and reverse engineering of Linux malware.