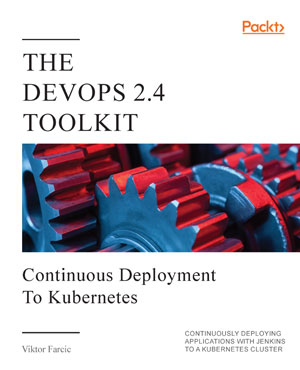 出版时间:2019.11
官网链接:Packt
下载地址:百度网盘(PDF+EPUB+MOBI)
提取码 :vhan
内容简介:
An exploration of continuous deployment to a Kubernetes cluster, using a wide range of Kubernetes platforms with instructions on how to develop a pipeline on a few of the most commonly used CI/CD platforms.
Learn
Gain an understanding of continuous deployment
Learn how to build, test, and deploy applications into Kubernetes
Execute continuous integration inside containers
About
Building on The DevOps 2.3 Toolkit: Kubernetes, Viktor Farcic brings his latest exploration of the Docker technology as he records his journey to continuously deploying applications with Jenkins into a Kubernetes cluster.
The DevOps 2.4 Toolkit: Continuously Deploying Applications with Jenkins to a Kubernetes Cluster is the latest book in Viktor Farcic's series that helps you build a full DevOps Toolkit. This book guides readers through the process of building, testing, and deploying applications through fully automated pipelines.
Within this book, Viktor will cover a wide-range of emerging topics, including an exploration of continuous delivery and deployment in Kubernetes using Jenkins. It also shows readers how to perform continuous integration inside these clusters, and discusses the distribution of Kubernetes applications, as well as installing and setting up Jenkins.
Work with Viktor and dive into the creation of self-adaptive and self-healing systems within Docker.
Features
The fifth book of DevOps expert Viktor Farcic's bestselling DevOps Toolkit series, with a discussion of the difference between continuous delivery vs. continuous deployment, and which is best for the user
Guides readers through the continuous deployment process using Jenkins in a Kubernetes cluster
Provides an overview of the best practices for building, testing, and deploying applications through fully automated pipelines.
Authors
Viktor Farcic is a Principal Software Delivery Strategist and Developer Advocate at CloudBees, a member of the Google Developer Experts and Docker Captains groups, and the published author of The DevOps Toolkit Series, DevOps Paradox, and Test-Driven Java Development. His big passions are DevOps, Containers, Kubernetes, Microservices, Continuous Integration, Delivery and Deployment (CI/CD) and Test-Driven Development (TDD). He often speaks at community gatherings and conferences.