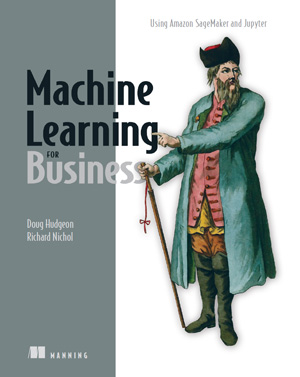 出版时间:2019.12
官网链接:Manning
下载地址:百度网盘(PDF)
提取码 :czqd
内容简介:
Imagine predicting which customers are thinking about switching to a competitor or flagging potential process failures before they happen
Think about the benefits of forecasting tedious business processes and back-office tasks
Envision quickly gauging customer sentiment from social media content (even large volumes of it).
Consider the competitive advantage of making decisions when you know the most likely future events
Machine learning can deliver these and other advantages to your business, and it's never been easier to get started!
about the technology
Machine learning can deliver huge benefits for everyday business tasks. With some guidance, you can get those big wins yourself without complex math or highly paid consultants! If you can crunch numbers in Excel, you can use modern ML services to efficiently direct marketing dollars, identify and keep your best customers, and optimize back office processes. This book shows you how.
about the book
Machine Learning for Business teaches business-oriented machine learning techniques you can do yourself. Concentrating on practical topics like customer retention, forecasting, and back office processes, you'll work through six projects that help you form an ML-for-business mindset. To guarantee your success, you'll use the Amazon SageMaker ML service, which makes it a snap to turn your questions into results.
what's inside
Identifying tasks suited to machine learning
Automating back office processes
Using open source and cloud-based tools
Relevant case studies
about the reader
For technically inclined business professionals or business application developers.
about the authors
Doug Hudgeon and Richard Nichol specialize in maximizing the value of business data through AI and machine learning for companies of any size.