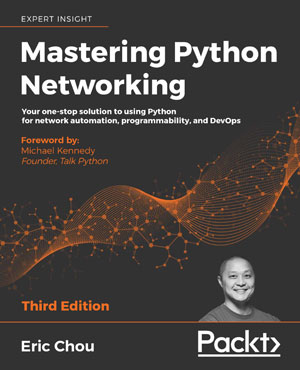 出版时间:2020.1
官网链接:Packt
下载地址:百度网盘(PDF+EPUB+MOBI+CODE)
提取码 :kinn
内容简介:
New edition of the bestselling guide to mastering Python Networking, updated to Python 3 and including the latest on network data analysis, Cloud Networking, Ansible 2.8, and new libraries
Learn
Use Python libraries to interact with your network
Integrate Ansible 2.8 using Python to control Cisco, Juniper, and Arista network devices
Leverage existing Flask web frameworks to construct high-level APIs
Learn how to build virtual networks in the AWS & Azure Cloud
Learn how to use Elastic Stack for network data analysis
Understand how Jenkins can be used to automatically deploy changes in your network
Use PyTest and Unittest for Test-Driven Network Development in networking engineering with Python
About
Networks in your infrastructure set the foundation for how your application can be deployed, maintained, and serviced. Python is the ideal language for network engineers to explore tools that were previously available to systems engineers and application developers. In Mastering Python Networking, Third edition, you'll embark on a Python-based journey to transition from traditional network engineers to network developers ready for the next-generation of networks.
This new edition is completely revised and updated to work with Python 3. In addition to new chapters on network data analysis with ELK stack (Elasticsearch, Logstash, Kibana, and Beats) and Azure Cloud Networking, it includes updates on using newer libraries such as pyATS and Nornir, as well as Ansible 2.8. Each chapter is updated with the latest libraries with working examples to ensure compatibility and understanding of the concepts.
Starting with a basic overview of Python, the book teaches you how it can interact with both legacy and API-enabled network devices. You will learn to leverage high-level Python packages and frameworks to perform network automation tasks, monitoring, management, and enhanced network security followed by Azure and AWS Cloud networking. Finally, you will use Jenkins for continuous integration as well as testing tools to verify your network.
Features
Explore the power of Python libraries to tackle difficult network problems efficiently and effectively, including pyATS, Nornir, and Ansible 2.8
Use Python and Ansible for DevOps, network device automation, DevOps, and software-defined networking
Become an expert in implementing advanced network-related tasks with Python 3
Authors
Eric Chou is a seasoned technologist with over 20 years of experience. He has worked on some of the largest networks in the industry while working at Amazon, Azure, and other Fortune 500 companies. Eric is passionate about network automation, Python, and helping companies build better security postures. In addition to being the author of Mastering Python Networking (Packt), he is also the co-author of Distributed Denial of Service (DDoS): Practical Detection and Defense, (O'Reilly Media). Eric is also the primary inventor for two U.S. patents in IP telephony. He shares his deep interest in technology through his books, classes, and blog, and contributes to some of the popular Python open source projects.