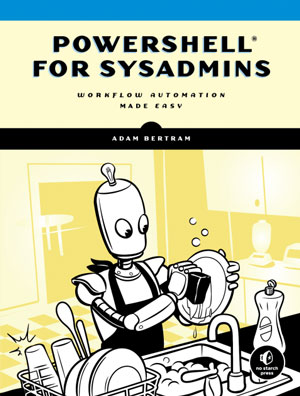 出版时间:2020.2
官网链接:No Starch Press
下载地址:百度网盘(PDF+EPUB+MOBI)
提取码 :2pm9
内容简介:
Save Time. Automate.
PowerShell® is both a scripting language and an administrative shell that lets you control and automate nearly every aspect of IT. In PowerShell for Sysadmins, five-time Microsoft® MVP "Adam the Automator" Bertram shows you how to use PowerShell to manage and automate your desktop and server environments so that you can head out for an early lunch.
You'll learn how to:
Combine commands, control flow, handle errors, write scripts, run scripts remotely, and test scripts with the PowerShell testing framework, Pester
Parse structured data like XML and JSON, work with common domains (like Active Directory, Azure, and Amazon Web Services), and create a real-world server inventory script
Design and build a PowerShell module to demonstrate PowerShell isn't just about ad-hoc scripts
Use PowerShell to create a hands-off, completely automated Windows deployment
Build an entire Active Directory forest from nothing but a Hyper-V host and a few ISO files
Create endless Web and SQL servers with just a few lines of code!
Real-world examples throughout help bridge the gap between theory and actual system, and the author's anecdotes keep things lively.
Stop with the expensive software and fancy consultants. Learn how to manage your own environment with PowerShell for Sysadmins and make everyone happy.
Covers Windows PowerShell v5.1
Author Bio
Adam Bertram is a 20-year IT veteran. He's an automation engineer, blogger, consultant, freelance writer, Pluralsight course author, and content marketing writer to multiple technology companies. Bertram focuses on DevOps, system management, and automation technologies as well as various cloud platforms, mostly in the Microsoft space. He's the founder of TechSnips, an IT career development platform, and focuses on solving technical problems through automation and sharing his knowledge with the world.