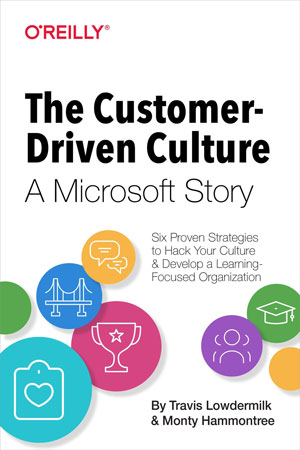 出版时间:2020.3
官网链接:O'Reilly
下载地址:百度网盘(PDF+EPUB)
提取码 :vrvc
内容简介:
If you're striving to make products and services that your customers will love, then you'll need a customer-driven organization. As companies transform their businesses to meet the demands of the digital age, they find themselves grappling with uniquely human challenges. Organizational knowledge becomes siloed, employees move to safeguard their expertise, and customer data creates polarization and infighting between teams. All of these challenges widen the distance between the people who make your products and the customers who use them.
To meet today's challenges, companies need to do more than build processes for customer-driven products. They need to create a customer-driven culture.
With the help of his friend and mentor Monty Hammontree, Travis Lowdermilk takes readers through the cultural transformation of the Developer Division at Microsoft. This book shows readers how to "hack" their culture and reduce the distance between them and their customers' needs. It's a uniquely personal story that's told amidst a cultural revolution at one of the largest software companies in the world.
This story acts as your guide. You'll learn how to:
Establish a Common Language: Help employees change their thinking and actions
Build Bridges, Not Walls: Treat product building as a team sport
Encourage Learning Versus Knowing: Help your team understand their customers
Build Leaders That Build Your Culture: Showcase star employees to inspire others
Meet Teams Where They Are: Make it easy for teams to to adopt vital behavior changes
Make Data Relatable: Move beyond numbers and focus on empathizing with customers