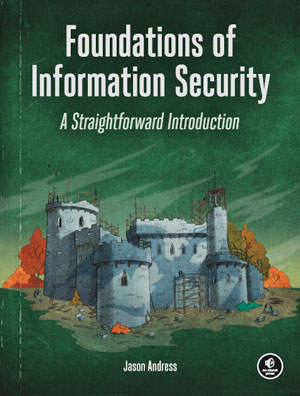 出版时间:2019.10
官网链接:No Starch Press
下载地址:百度网盘(PDF+EPUB+MOBI)
提取码 :rjbv
内容简介:
A high-level survey of the information security field by best-selling author Jason Andress. The book covers the basics of a wide variety of topics, from authentication and authorization to maintaining confidentiality and performing penetration testing.
Using real-world security breaches as examples, Foundations of Information Security explores common applications of these concepts, such as operations security, network design, hardening and patching operating systems, securing mobile devices, as well as tools for assessing the security of hosts and applications.
You'll also learn the basics of topics like:
Multifactor authentication and how biometrics and hardware tokens can be used to harden the authentication process
The principles behind modern cryptography, including symmetric and asymmetric algorithms, hashes, and certificates
The laws and regulations that protect systems and data
Anti-malware tools, firewalls, and intrusion detection systems
Vulnerabilities such as buffer overflows and race conditions
A valuable resource for beginning security professionals, network systems administrators, or anyone new to the field, Foundations of Information Security is a great place to start your journey into the dynamic and rewarding field of information security.
Author Bio
Dr. Jason Andress is a seasoned security professional, security researcher, and technophile. He has been writing on security topics for over a decade, covering data security, network security, hardware security, penetration testing, and digital forensics, among others.