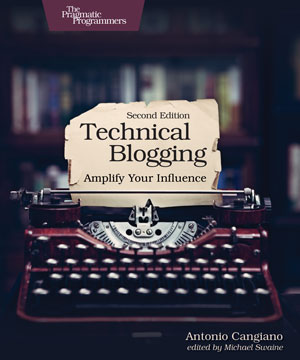 出版时间:2019.6
官网链接:Pragmatic
下载地址:百度网盘(truePDF+EPUB)
提取码 :u29c
内容简介:
Successful technical blogging is not easy but it's also not magic. Use these techniques to attract and keep an audience of loyal, regular readers. Leverage this popularity to reach your goals and amplify your influence in your field. Get more users for your startup or open source project, or simply find an outlet to share your expertise. This book is your blueprint, with step-by-step instructions that leave no stone unturned. Plan, create, maintain, and promote a successful blog that will have remarkable effects on your career or business.
Successful people often get recognition by teaching what they know. Blogging is a reliable path to do that, while gaining influence in the process. The problem is getting it right. Far too often professionals start a blog with big hopes, only to quickly give up because they don't get speedy results. This book will spare you that fate by outlining a careful plan of action. A plan that will bring amazing benefits to your career, new job possibilities, as well as publishing, speaking, and consulting opportunities. And if you are blogging for business, you'll attract new customers, partners, and outstanding employees.
Understand what blogging is and how it can improve your professional (and personal) life. Devise a plan for your new or existing blog. Create remarkable content that ranks well in Google and is shared by readers. Beat procrastination by employing proven time-management techniques that make you an efficient and effective blogger. Promote your blog by mastering on-page and off-page SEO, as well as social media promotion, without compromising your ethics. Analyze your traffic to understand your audience and measure growth. Build a community around your blog and make the best of your newfound popularity by maximizing its benefits for your career, business, or simply for extra income.
Create and maintain a successful technical blog that will amplify your impact, influence, and reach by following Antonio's step-by-step plan.
What You Need
The latest version of WordPress or equivalent blogging system (guidance on recommended options is provided in the book).
Author
Antonio Cangiano is a software developer and technical evangelist for IBM, web entrepreneur, and serial blogger. He is one of the main go-to people within IBM for advice on blogging, social media, and technical marketing. In addition, he is the Marketing Lead for Cognitive Class, an educational initiative which he helped to grow from zero to over 1 Million students. Combined, his technical blogs have attracted millions of page views and tens of thousands subscribers, and currently generate a substantial side income for him. You can learn more about Antonio at antoniocangiano.com.