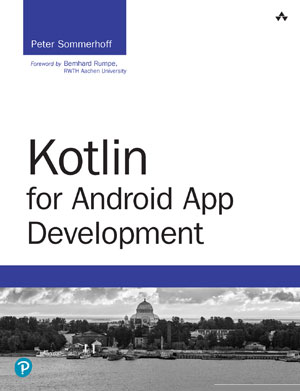 出版时间:2019
官网链接:Amazon
下载地址:百度网盘(PDF+EPUB+MOBI)
提取码 :uszw
内容简介:
The Kotlin language brings state-of-the-art programming techniques and constructs to Android development. Kotlin for Android App Development will help you rapidly understand Kotlin's principles and techniques, apply Kotlin in production app development, integrate Kotlin with existing Java code, and plan a migration to Kotlin, if you choose.
If you have at least basic programming experience (with any language), Peter Sommerhoff's well-crafted overview and examples will help you get quickly up-to-speed with the Kotlin language, its constructs, and its advanced functional and object-oriented capabilities.
Once you've mastered these foundations, Sommerhoff walks you through two complete app development projects, introducing best practices and emerging patterns for writing code that's robust, concise, readable, and highly performant.
Understand Kotlin's goals, principles, advantages, design, and constructs
Take full advantage of functional programming in the Kotlin environment
Write more concise and reusable code using Kotlin's object-oriented features
Interoperate with existing Java code, and plan a migration to Kotlin
Use coroutines to efficiently handle concurrency
Capture data via third-party APIs, map it to internal data representations, and present it to users
Master best practices for architecting Kotlin Android apps
Improve productivity and readability by creating simple domain-specific languages in Kotlin