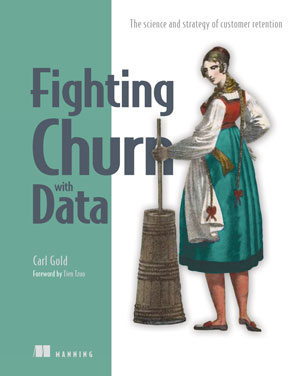 出版时间:2020.11
官网链接:Manning
下载地址:百度网盘(truePDF+EPUB+MOBI)
提取码 :kfw9
内容简介:
The beating heart of any product or service business is returning clients. Don't let your hard-won customers vanish, taking their money with them. In Fighting Churn with Data you'll learn powerful data-driven techniques to maximize customer retention and minimize actions that cause them to stop engaging or unsubscribe altogether. This hands-on guide is packed with techniques for converting raw data into measurable metrics, testing hypotheses, and presenting findings that are easily understandable to non-technical decision makers.
about the technology
Keeping customers active and engaged is essential for any business that relies on recurring revenue and repeat sales. Customer turnover—or "churn"—is costly, frustrating, and preventable. By applying the techniques in this book, you can identify the warning signs of churn and learn to catch customers before they leave.
about the book
Fighting Churn with Data teaches developers and data scientists proven techniques for stopping churn before it happens. Packed with real-world use cases and examples, this book teaches you to convert raw data into measurable behavior metrics, calculate customer lifetime value, and improve churn forecasting with demographic data. By following Zuora Chief Data Scientist Carl Gold's methods, you'll reap the benefits of high customer retention.
what's inside
Calculating churn metrics
Identifying user behavior that predicts churn
Using churn reduction tactics with customer segmentation
Applying churn analysis techniques to other business areas
Using AI for accurate churn forecasting
about the reader
For readers with basic data analysis skills, including Python and SQL.
about the author
Carl Gold (PhD) is the Chief Data Scientist at Zuora, Inc., the industry-leading subscription management platform.