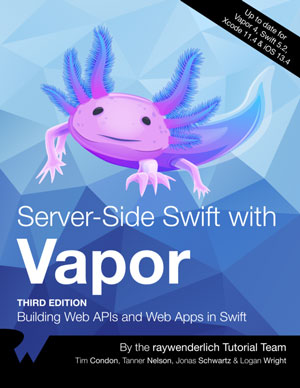 出版时间:2020.1
官网链接:RayWenderlich
下载地址:百度网盘(PDF+EPUB)
提取码 :azwh
内容简介:
Up to date for Vapor 4, Swift 5.2, Xcode 11.4 & iOS 13.4
Learn how to build web apps and web APIs using Swift and the Vapor 4 framework!
If you're a beginner to web development, but have worked with Swift for some time, you'll find it's easy to create robust, fully featured web apps and web APIs with Vapor 4.
Whether you're looking to create a backend for your iOS app, or want to create fully-featured web apps, Vapor is the perfect platform for you.
This book starts with the basics of web development and introduces the basics of Vapor; it then walks you through creating APIs and web backends; creating and configuring databases; deploying to Heroku, AWS, or Docker; testing your creations and more!
Who is this book for
This book is for iOS developers who already know the basics of iOS and Swift development and want to transfer that knowledge to writing server based applications.
Concepts covered in this book
HTTP
Fluent
Controllers
Leaf
Middleware
Version history
Third Edition – Early Acess 1 · iOS 13, Swift 5.2 – Vapor 4 Framework, Xcode 11.4
v3.0.ea1 · Jan 1 2020 · Logan Wright, Tanner Nelson, Jonas Schwartz & Tim Condon