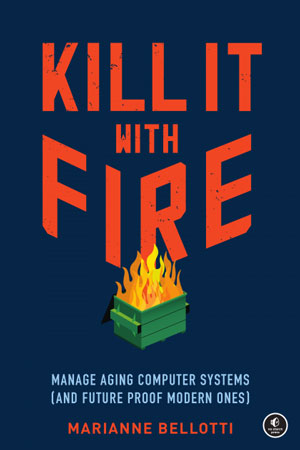 出版时间:2021.3
官网链接:No Starch Press
下载地址:百度网盘(PDF+EPUB+MOBI)
提取码 :qgdb
内容简介:
"Kill it with fire," the typical first reaction to a legacy system falling into obsolescence, is a knee-jerk approach that often burns through tons of money and time only to result in a less efficient solution. This book offers a far more forgiving modernization framework, laying out smart value-add strategies and proven incremental techniques that work equally well for ancient systems and brand-new ones.
Internationally known for restoring some of the world's oldest, messiest computer networks to operational excellence, software engineering expert Marianne Bellotti distills key lessons and insights from her experience into practical, research-backed guidance on topics from "chaos" testing solutions to building momentum-driven teams and effective communication structures. Using clear explanations and simple exercises, she'll help you determine when to modernize, how to organize, what migrations will add the most value, and where to focus your maintenance efforts for maximum impact. With witty, engaging prose, Bellotti explains why new doesn't always mean better, weaving in illuminating case studies and jaw-dropping anecdotes from her work in the field.
You'll learn:
Tips and best practices for assessing architecture and testing assumptions
How to avoid trends and pick the right modernization solutions for your specific needs
How to determine whether your migrations will add value before you invest in them
Critical considerations every organization should weigh before moving data to the cloud
Team-based strategies and motivational tricks for keeping modernization plans on track
Key outcomes and checklists for determining when a project is finished
Packed with resources, exercises, and flexible frameworks for organizations of all ages and sizes, Kill It with Fire will give you a vested interest in your technology's future.
Author Bio
Marianne Bellotti has worked as a software engineer for over 15 years. She built data infrastructure for the United Nations to help humanitarian organizations share crisis data worldwide and tackled some of the oldest and most complicated computer systems in the world as part of United States Digital Service. At Auth0 she ran Platform Services, a portfolio that included shared services, untrusted code execution, and developer tools. Currently she runs Identity and Access Control at Rebellion Defense. She can be found on most social networks under the handle bellmar.