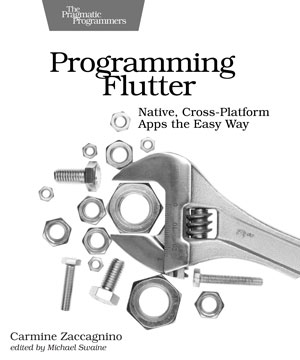 出版时间:2020.2
官网链接:Pragmatic
下载地址:百度网盘(PDF+EPUB)
提取码 :gvh7
内容简介:
Develop your next app with Flutter and deliver native look, feel, and performance on both iOS and Android from a single code base. Bring along your favorite libraries and existing code from Java, Kotlin, Objective-C, and Swift, so you don't have to start over from scratch. Write your next app in one language, and build it for both Android and iOS. Deliver the native look, feel, and performance you and your users expect from an app written with each platform's own tools and languages. Deliver apps fast, doing half the work you were doing before and exploiting powerful new features to speed up development. Write once, run anywhere.
Learn Flutter, Google's multi-platform mobile development framework. Instantly view the changes you make to an app with stateful hot reload, and define a declarative UI in the same language as the app logic without having to use separate XML UI files. You can also reuse existing platform-specific Android and iOS code and interact with it in an efficient and simple way.
Use built-in UI elements—or build your own—to create a simple calculator app. Run native Java/Kotlin or Objective-C/Swift methods from your Flutter apps, and use a Flutter package to make HTTP requests to a Web API or to perform read and write operations on local storage. Apply visual effects to widgets, create transitions and animations, create a chat app using Firebase, and deploy everything on both platforms.
Get native look and feel and performance in your Android and iOS apps, and the ability to build for both platforms from a single code base.
What You Need
Flutter can be used for Android development on any Linux, Windows or macOS computer, but macOS is needed for iOS development.
Author
Carmine Zaccagnino is a web and mobile developer and has struggled for years building Android apps using the standard SDK and, in a lesser way, Web-based tools. His experience in development areas other than mobile development has led him to be particularly bothered by the lack of a native (or close to native) framework that can bridge together Android and iOS without losing low-level access to hardware and software, until Flutter did exactly what was needed.