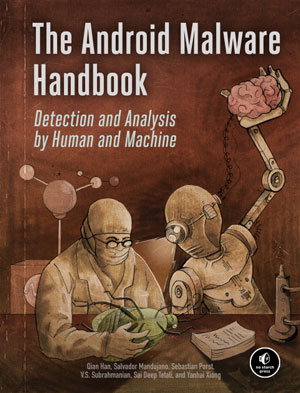 出版时间:2023.9
官网链接:No Starch Press
下载地址:百度网盘(EPUB+MOBI)
内容简介:
This groundbreaking guide to Android malware distills years of research by machine learning experts in academia and members of Meta and Google's Android Security teams into a comprehensive introduction to detecting common threats facing the Android eco-system today.
Explore the history of Android malware in the wild since the operating system first launched and then practice static and dynamic approaches to analyzing real malware specimens. Next, examine machine learning techniques that can be used to detect malicious apps, the types of classification models that defenders can implement to achieve these detections, and the various malware features that can be used as input to these models. Adapt these machine learning strategies to the identification of malware categories like banking trojans, ransomware, and SMS fraud.
You'll:
Dive deep into the source code of real malware
Explore the static, dynamic, and complex features you can extract from malware for analysis
Master the machine learning algorithms useful for malware detection
Survey the efficacy of machine learning techniques at detecting common Android malware categories
The Android Malware Handbook's team of expert authors will guide you through the Android threat landscape and prepare you for the next wave of malware to come.