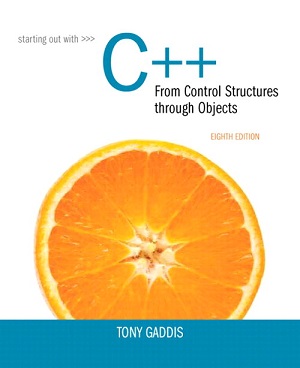 出版时间:2014.3
官网链接:Amazon
下载地址:百度网盘(PDF)
内容简介:
In Starting Out with C++: From Control Structures through Objects, Gaddis covers control structures, functions, arrays, and pointers before objects and classes. As with all Gaddis texts, clear and easy-to-read code listings, concise and practical real-world examples, and an abundance of exercises appear in every chapter.
MyProgrammingLab for Starting Out with C++ is a total learning package. MyProgrammingLab is an online homework, tutorial, and assessment program that truly engages students in learning. It helps students better prepare for class, quizzes, and exams—resulting in better performance in the course—and provides educators a dynamic set of tools for gauging individual and class progress.
Teaching and Learning Experience
This program presents a better teaching and learning experience–for you and your students. It will help:
Personalize Learning with MyProgrammingLab: Through the power of practice and immediate personalized feedback, MyProgrammingLab helps students fully grasp the logic, semantics, and syntax of programming.
Enhance Learning with the Gaddis Approach: Gaddis's accessible approach features clear and easy-to-read code listings, concise real-world examples, and exercises in every chapter.
Keep Your Course Current: This edition introduces many of the new C++11 language features.
Support Instructors and Students: Student and instructor resources are available to expand on the topics presented in the text.