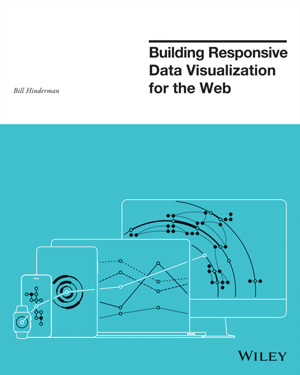 出版时间:2015.10
官网链接:ResponsiveDataVisualization.com
下载地址:百度网盘(PDF+EPUB+MOBI)
内容简介:
With more than 1.4 billion smart phones and at least half as many tablets in use, there is a tremendous need for responsive web design in the data visualization sphere. Building Responsive Data Visualization for the Web answers the call for guidance with an authoritative and practical guide based on responsive web design principles.
Bill Hinderman draws upon his UI development and web design expertise to show you how to build data visualizations that retain clarity and effectiveness no matter where or how they're accessed.
You'll start by developing a working understanding of responsive design as you learn your way around the flexible grid, then you'll apply those skills to data as you master the fine points of data visualization and bring it to the web with a content-first perspective.
Building Responsive Data Visualization for the Web provides strategies for teams of any size or skill set, so you can:
Think responsively from the beginning of any project
Use and adapt the principles of responsive web design
Evolve current data strategies to responsive workflows
Use HTML to build and JavaScript to enhance
Design visualizations for any screen and any browser
Build code-driven visualizations with D3.js