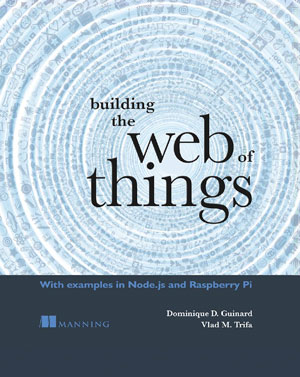 出版时间:2016.6
官网链接:Manning
下载地址:百度网盘(PDF+EPUB)
内容简介:
About the technology
Because the Internet of Things is still new, there is no universal application protocol. Fortunately, the IoT can take advantage of the web, where IoT protocols connect applications thanks to universal and open APIs.
About the book
Building the Web of Things is a guide to using cutting-edge web technologies to build the IoT. This step-by-step book teaches you how to use web protocols to connect real-world devices to the web, including the Semantic and Social Webs. Along the way you'll gain vital concepts as you follow instructions for making Web of Things devices. By the end, you'll have the practical skills you need to implement your own web-connected products and services.
What's inside
Introduction to IoT protocols and devices
Connect electronic actuators and sensors (GPIO) to a Raspberry Pi
Implement standard REST and Pub/Sub APIs with Node.js on embedded systems
Learn about IoT protocols like MQTT and CoAP and integrate them to the Web of Things
Use the Semantic Web (JSON-LD, RDFa, etc.) to discover and find Web Things
Share Things via Social Networks to create the Social Web of Things
Build a web-based smart home with HTTP and WebSocket
Compose physical mashups with EVRYTHNG, Node-RED, and IFTTT
About the reader
For both seasoned programmers and those with only basic programming skills.
About the authors
Dominique Guinard and Vlad Trifa pioneered the Web of Things and cofounded EVRYTHNG, a large-scale IoT cloud powering billions of Web Things.