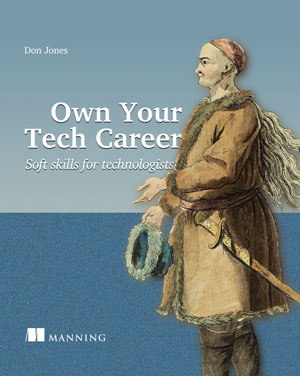 出版时间:2021.7
官网链接:Manning
下载地址:百度网盘(PDF+EPUB+MOBI)
提取码 :eyxu
内容简介:
Own Your Tech Career: Soft skills for technologists is a guide to taking control of your professional life. It teaches you to approach your career with planning and purpose, always making active decisions towards your goals.
In Own Your Tech Career: Soft skills for technologists, you will:
Define what "success" means for your career
Discover personal branding and career maintenance
Prepare for and conduct a tech job hunt
Spot speed bumps and barriers that can derail your progress
Learn how to navigate the rules of the business world
Perform market analysis to keep your tech skills fresh and relevant
Whatever your road to success, you'll benefit from the toolbox of career-boosting techniques you'll find in Own Your Tech Career: Soft skills for technologists. You'll discover in-demand communication and teamwork skills, essential rules for professionalism, tactics of the modern job hunt, and more.
about the technology
A successful technology career demands more than just technical ability. Achieving your goals requires clear communication, top-notch time management, and a knack for navigating business needs. Master the "soft skills," and you'll have a smoother path to success and satisfaction, however you define that for yourself.
about the book
Own Your Tech Career: Soft skills for technologists helps you get what you want out of your technology career. You'll start by defining your ambition—whether that's a salary, a job title, a flexible schedule, or something else. Once you know where you're going, this book's adaptable advice guides your journey. You'll learn conflict resolution and teamwork, master nine rules of professionalism, and build the confidence and skill you need to stay on the path you've set for yourself.
what's inside
Personal branding and career maintenance
Barriers that derail progress
The rules of the business world
Market analysis to keep tech skills fresh
about the reader
For tech professionals who want to take control of their career.
about the author
Microsoft MVP Don Jones brings his years of experience as a successful IT trainer to this engaging guide.