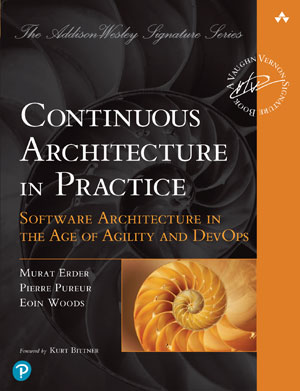 出版时间:2021
官网链接:continuousarchitecture.com
下载地址:百度网盘(PDF+EPUB)
提取码 :2qy4
内容简介:
Traditional architecture practices have served us well for many years, but weren't developed with an understanding of the demands of the era of DevOps, agility, cloud, and microservices. However, today, effective architecture is more important than ever.
The demands of modern software engineering mean that we need updated architecture practices that allow organizations to effectively manage complex, conflicting and cross-cutting concerns such as resilience, security, and technical coherence, and meet the fast-changing needs of complex groups of stakeholders.
In Continuous Architecture in Practice we explain how to update the discipline's classic practices for today's environments, software development contexts, and applications. On this site you can find out more about the book and read some of our writing on topics related to its content.
The key knowledge you will gain from the book includes:
How to create sustainable, coherent systems that meet both their functional requirements and the quality attributes that key stakeholders care about.
Understanding team-based software architecture and architecture as a flow of decisions.
How to deal with varied data technologies and crucial issues of data management, integration, and change.
Techniques to address security, including continuous threat modeling and mitigation.
An approach that improves performance in continuous delivery environments
A practical way to architect for scalability and scale microservices and serverless environments
Use architecture to apply emerging technologies more successfully