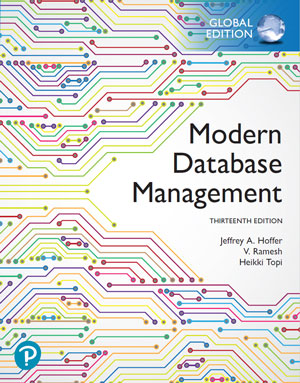 出版时间:2020
官网链接:Pearson
下载地址:百度网盘(truePDF)
提取码 :fz6j
内容简介:
This title is a Pearson Global Edition. The Editorial team at Pearson has worked closely with educators around the world to include content which is especially relevant to students outside the United States.
Keeps current with industry trends and best practices
New – This edition has been updated and revised throughout to keep pace with changes in the field. Among the updates, you'll find content on:
big data technologies (Chapter 10)
analytics (Chapter 11)
transaction integrity, designing multi-user solutions, and application level security (Chapter 7).
The authors work with Data Management Association (DAMA) and The Data Warehousing Institute (TDWI) – as well as leading consultants and authors of widely read professional publications – to ensure the content is relevant and appropriate to provide strong foundational knowledge, and teach with a mindset for long-term career success.
Presents material in a streamlined way with widely accessible pedagogical features
New – A new overarching framework gives readers a clearer overview of core topic areas and communicates the increasing importance of informational systems, in addition to the text's traditional strength of transactional systems.
A modular organization allows instructors to teach the course in the order they prefer and emphasize topics to their preferences. For example, those who want to cover SQL early can cover Chapters 5 & 6 right after Chapter 1, and will be supported by continual SQL examples throughout the text.
The text is organized with chapter introductions and summaries to accommodate structural flexibility, allowing instructors to create a personalized teaching sequence based on the needs of the course.
In addition to these useful chapter introductions and summaries to aid students in their studying, there are ample opportunities to put the concepts into action in the end-of- chapter Problems and Exercises, hands-on Field Exercises, and an in-depth running Case.
Customized short videos address key concepts and skills from different sections of the book, helping students learn potentially difficult material in a format that speaks to visual learners.