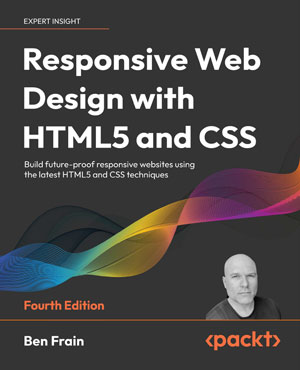 出版时间:2022.9
官网链接:Packt
下载地址:百度网盘(PDF+EPUB)
内容简介:
About this book
Responsive Web Design with HTML5 and CSS, Fourth Edition, is a fully revamped and extended version of one of the most comprehensive and bestselling books on the latest HTML5 and CSS techniques for responsive web design. It emphasizes pragmatic application, teaching you the approaches needed to build most real-life websites, with downloadable examples in every chapter.
Written in the author's friendly and easy-to-follow style, this edition covers all the newest developments and improvements in responsive web design, including approaches for better accessibility, variable fonts and font loading, and the latest color manipulation tools making their way to browsers. You can enjoy coverage of bleeding-edge features such as CSS layers, container queries, nesting, and subgrid.
The book concludes by exploring some exclusive tips and approaches for front-end development from the author.
By the end of the book, you will not only have a comprehensive understanding of responsive web design and what is possible with the latest HTML5 and CSS, but also the knowledge of how to best implement each technique. Read through as a complete guide or dip in as a reference for each topic-focused chapter.
About the Author
Ben Frain has been a web designer/developer since 1996. He is currently employed as a UI-UX Technical Lead at bet365. Before the web, he worked as an underrated (and modest) TV actor and technology journalist, having graduated from Salford University with a degree in Media and Performance. He has written four equally underrated (his opinion) screenplays and still harbors the (fading) belief he might sell one. Outside of work, he enjoys simple pleasures: playing indoor football while his body and wife still allow it and wrestling with his two sons.